There is a running joke in my family that the only thing that can get me up early is Christmas morning. I would add Disney World to that list, but I certainly can't argue with the sentiment. First off, it's a major understatement to say that I'm not a morning person. And, secondly, I love Christmas. I love the decorations, the snow, the music, the magic, Santa Claus, Christmas specials on TV and presents. Giving and receiving. I get just as much joy out of selecting the perfect present for someone as I do receiving the perfect present from someone else.
Guess what? I've decided that I want to give a gift to you. Aren't you lucky? Problem is, I don't know if you've been naughty or nice and I certainly have no idea what you like. The only solution I can think of is to give away a bunch of different things and hope that you find at least one of them appealing. Hey, it's the best I can do. They're all better than a lump of coal, I can promise you that.
Here's the deal. I'll be posting a bunch of different giveaways over the next few days and will link to all of them from this page for easy entry (see below). They'll all end somewhere around December 13-15 with the hopes that I can get them out to you in time for Christmas.
For immediate extra entry on all giveaways, you can grab the Lump of Coal Giveaway button below. Happy Holidays to all, and to all a good night!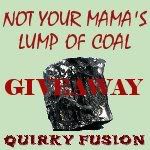 Prizes so Far: